About Keeling Lamps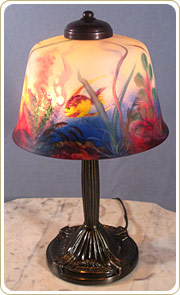 Designers Of Decorative Lighting Since 1971
Keeling Lamps was founded by John P. Keeling in 1971 in Meriden, Connecticut. In the early years, our company manufactured a large selection of stained glass lighting which was sold in many retail stores throughout the Eastern United States, including a small store of our own in Wallingford, CT.
In 1990, our store expanded and moved to the shoreline on Rt. 1 in Westbrook, CT focusing more on retail lighting. In 2000 we began a new line of reverse hand painted lighting designed and created by Laurie Keeling.
Today, Laurie creates her unique lamps in a studio in Marlborough, CT where she also offers customized service to create the perfect light for your home. We have also opened a Durham, CT location where our stained glass lighting and custom stained glass windows are produced. The Durham location also offers a lamp repair department for general lighting and an in-home lighting consultation service for all of your lighting needs.
Keeling Lamps designs and manufacturers Reverse Hand Painted Lighting, Handcrafted Stained Glass Lamps and Custom Stained Glass Windows. Keeling Lamps also provides Home Lighting Consultations and Lamp Repair and Restoration services in Connecticut CT.