Custom Hand Painted Products
Custom Designs
A customer requested a hand painted lamp design modeled after a bronze sculpture of sea turtles located in Virginia Beach.
Laurie Keeling was able to translate this monotone sculpture to a colorful, reverse hand painted underwater scene.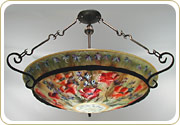 Custom Hardware
We provide custom hardware styles with decorative arms, handmade wrought iron, and hand blown glass fonts that will embellish your painted chandelier. We work with you to design a ceiling mount that accents the beauty of your lamp.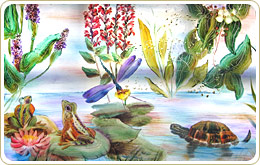 Reverse Hand Painted Window Hangings
Keeling Lamps is known for high quality reverse hand painted glass.
Window hangings take advantage of natural outdoor light. You can request one of our designs, or create a custom design of your own to fit that perfect space in your home.
Keeling Lamps designs and manufacturers Reverse Hand Painted Lighting, Handcrafted Stained Glass Lamps and Custom Stained Glass Windows. Keeling Lamps also provides Home Lighting Consultations and Lamp Repair and Restoration services in Connecticut CT.