Reverse Hand Painted Lighting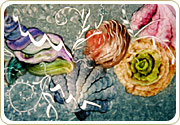 A History of Reverse Hand Painted Glass
Hand Painted Lighting was first seen at the turn of the 20th Century. At that time it was referred to as "Reverse Painting on Glass". This technique involves painting on the inside of the glass, which adds depth and dimension. Reverse painted lamps are a unique, beautiful, and functional art form. If desired, these lamps can be custom designed to fit any room's décor. We can custom match the lamp to your room's colors as well as the lamp's specific size, shape, hardware, and imagery as desired.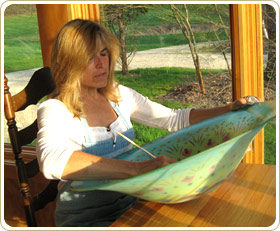 About Laurie Keeling
Having grown up in Meriden, Connecticut, a city famous for decorative lighting, Laurie Keeling is well acquainted with the beauty of reverse painted lamps. Meriden was home to many artistic lighting companies in the late 19th and early 20th centuries including Bradley and Hubbard, Miller, and Parker Lamps. The most famous, however, was Handel Lamps. Lamps that were designed and created at Handel are now commanding high prices at auction and are shown in the same circle as Tiffany.
In 1978 Laurie began restoring antique Handel and "Gone with the Wind" style lamps at the age of 21. She completed years of research on early techniques as well as interviewed artists who had worked for Handel. These interviews yielded many secrets about painting on the medium of glass, none of which are readily available in art school. Laurie has been designing and creating hand painted lighting professionally since 2000, and her creations adorn the homes of many throughout the United States.
Points to Consider
Ceiling Height
Unlike traditional chandeliers, reverse-painted baskets are made to look up at, not into.
Diameter
Remember that the style of hardware you choose may add to the width of the chandelier. Large rooms or areas make the lamps appear smaller.
Designs
Any design can be painted in every size and style. For custom designs please contact us.
Color
All designs can be painted with custom colors of your choice for a 15% surcharge. Please send selected color samples (available at paint stores). We mix by hand, not computer, so allow for some variation.
Light
Remember light colored lamps or lamps with light areas at the bottom give the most light.
Keeling Lamps designs and manufacturers Reverse Hand Painted Lighting, Handcrafted Stained Glass Lamps and Custom Stained Glass Windows. Keeling Lamps also provides Home Lighting Consultations and Lamp Repair and Restoration services in Connecticut CT.