Custom Stained Glass
Quality & Standards That Meet Your Expectations
Keeling Lamps has been in business since 1971 producing stained glass lamps and custom windows. View our large selection of traditional, transitional, and contemporary designs built to stringent standards as listed below. These standards ensure a quality stained glass lamp every time from Keeling Lamps.
Original Keeling Designs
These styles are designed and created by Keeling artisans. We create each piece artistically, giving careful consideration to glass choice, construction, and fine detail. The result is a high quality product.
Craftsman Signed
For an item to attain its future highest value, it must be signed by the artist or company. Lamps can be identified as follows:
1971 - 1979
Handwritten in soft copper.

1979 - 1981
Hand stamped in soft copper.

1982 - 1983
Stamped oval shaped brass tag.

1983 - 1985
Stamped oval shaped brass tag, numbered, and art lamps recorded.

1985 - Present
Stamped brass tag for Traditional Series, Style number, A for art glass, and year made.

1985 - Present
Stamped brass tag for Traditional Series, Style number, H for handmade art glass, year made, and individually numbered based on order of manufacture for that year.

1985 - Present
Stamped brass tag for Transitional Series, style number and year made.

Made In America
All procedures are done by experienced craftsmen in our studio. This is how we insure a fine quality lamp every time. We do not sub-contract our work to other companies or foreign countries who lack the same years of experience and artistic expertise.
Finest American Handmade Glass
When buying a stained glass lamp, the quality of the glass plays an extremely important part in its beauty. Just as a jeweler can identify a high quality gem by its clarity and brilliance, a connoisseur of fine lamps can recognize the high quality glass in a Keeling lamp by its sparkling beauty. Stained glass lamps are an American art form, introduced at the Paris World's Fair by Louis Comfort Tiffany in 1888. What made Tiffany lamps so outstanding and valuable was his dedication to using beautiful glass.
Kokomo, Youghiogheny, Bullseye, Uroboros, and Oceana
We at Keeling's have the privilege to purchase glass from Kokomo Opalescent Glass Co., who have documented sales to Louis Comfort Tiffany in the late 1800's. Their glass is still made in the same facilities, using the same methods and the same secret formulas as their original glass sold to Tiffany himself. Youghiogheny, Bullseye, Uroboros, and Oceana are creating handmade glass with the same texture and characteristics as the glass Tiffany developed and made years before.
Glass Matched For Grain, Color, And Density
Grain
Extra time and care is taken to cut and sort the glass to flow in a pleasing and meaningful direction.
Color
We employ a colorist whose sole responsibility is to order and select the best possible colors and textures for each style.
Density
We select our glass with densities that are appropriate for their place in the design, which gives the lamp its sparkling character.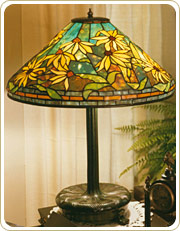 Hand Leaded With Finest Virgin Metal
High strength is desirable to prevent damage and sagging from continued exposure to heat from high watt light bulbs. Some imported stained glass lamps are made with poor quality, recycled, impure lead. We use high quality virgin metals which give our hand leaded lamps extra smoothness, strength, and durability.
Hand Cut Stained Glass
Hand cutting is our specialty. One of the marks of a superior lamp is precise glass cutting. The fine, tight fitting joints and seams found in Keeling lamps are a testament to the expertise of our glass cutters.
Thin, Even, Clean Lead Lines
Our solderers pride themselves in assembling and finishing each lamp with great care and accuracy. The end result is straight, strong, and hangs level.
Fine Raised Leading, Inside, Outside, And Bottom
Extra time and care is taken in soldering to strengthen, smooth, and beautify the leading. The inside and bottom of the lamp are finished as well as the outside because when sitting at a table, as much time is spent looking up into the lamp as is spent looking at the outside.
Hand Rubbed Keeling Formula Patina
Our exclusive copper based formula patina has the unique quality to become richer with age when followed by our care instructions. Most other finishes rapidly deteriorate and turn white with oxidation.
Copper Wire Reinforced Top And Bottom
With our experience in lamp restoration, we have found that copper wire reinforcement is necessary to insure long lasting strength. Without it durability is greatly reduced.
Care In Copper Foiling
Each piece of glass is carefully hand foiled evenly in copper, with the ends meeting perfectly, and then smoothed down onto the glass. This avoids jagged and unappealing lead lines.
Heavy Gauge Solid Brass Trim
We add extra detailing by using high quality attractive brass trim. Other lamps commonly have no trim, or steel trim which rusts.
Epoxy Painted Steel Reinforced Crossbar
We use heavy gauge steel crossbars, reinforced with wires, giving extra strength and durability to the product. The bar is then finished with epoxy paint.
Keeling Lamps designs and manufacturers Reverse Hand Painted Lighting, Handcrafted Stained Glass Lamps and Custom Stained Glass Windows. Keeling Lamps also provides Home Lighting Consultations and Lamp Repair and Restoration services in Connecticut CT.