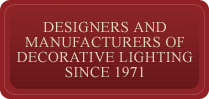 Keeling Lamps
by Laurie Keeling
30 Gina Lane
Marlborough CT 06447

Call Us Today:
860.705.9746
Custom Stained Glass Designs
Varities of Stained Glass Lamp Designs
Keeling Lamps offers a variety of stained glass designs. We can change colors and even create custom designs to fit your tastes. Browse through a small selection of our design styles below to experience the diversity and quality Keeling Lamps offers. If you see a design you like, we invite you to contact us.
Browse through some of the designs listed below and click on the photos to view more images:
Copyright © 2010 Keeling Lamps. All Rights Reserved. |
SITE MAP
Keeling Lamps designs and manufacturers Reverse Hand Painted Lighting, Handcrafted Stained Glass Lamps and Custom Stained Glass Windows. Keeling Lamps also provides Home Lighting Consultations and Lamp Repair and Restoration services in Connecticut CT.